About TCC
The Conservative Caucus (TCC) was founded in 1974 in the belief that conservatives could win in Washington only by mobilizing conservative strength at the state and Congressional district level.
Here is a list of key TCC accomplishments since our founding in 1974.
The key to success is still to let people know what is happening in government, and to tell them how they can have an impact on the decisions to be made.
TCC uses many methods to make conservative opinion felt in Congress and the White House. We encourage members and all citizens to call, visit, or
write their elected representatives
; and to alert other Americans by calling talk shows and writing letters to the editor. Often petitions are collected and delivered to key decision-makers. Testimony before Congressional committees, meetings with members of Congress and their staff, a
weekly conservative cable TV show
, and our Member's Message all help make sure that elected officials hear what conservatives have to say.
Peter J. Thomas is the Chairman of TCC, which was founded by Howard Phillips, Chairman of TCC from 1974 to 2011.
TCC Board of Directors:
Peter J. Thomas, Chairman
Darrell Castle, Esq. Treasurer
William E. Potter, Secretary
James N. Clymer, Esq.
Dr. William Campbell Douglass II
Marc Morano
Robert J. Renaud
Mark A. Weaver
Peter Thomas, TCC Chairman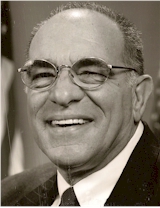 Peter J. Thomas, one of the founders of The Conservative Caucus (TCC) in 1974, takes over today as the organization's new Chairman. He has a long history of activity in conservative politics, and as a political appointee in Republican administrations going back to Ronald Reagan. Thomas replaces Howard Phillips, who retired late last year. Thomas's goal as Chairman is to restore the Caucus as a grass roots lobbing force in the congressional districts as well as on Capitol Hill.
Thomas served as TCC's National Field Director from 1975-1981, seeking to establish a grass roots network in each state and congressional district. He played a key role in organizing citizen opposition to the Panama Canal Treaties, the SALT II Treaty, and the proposed Constitutional Amendment that would have given the District of Columbia voting representation in Congress. He later founded and served as President of the Massachusetts Foundation for Economic Research.
President Reagan appointed him as the New England Regional Administrator of the General Services Administration in 1981, a position he held until 1985. Thomas returned to the Federal government in 1990, working in the Small Business Administration for two years. He gained first-hand experience with Congress as Chief of Staff to Rep. Peter Torkildsen (R-MA) from 1995-1997. He later served President George W. Bush in the Department of Agriculture, rising to the position of Acting Assistant Secretary for Administration.
The new TCC Chairman also has an extensive background in the business sector, leading the consulting firm of Bay State Strategies since 1997. Earlier he spent four years as Director of Public Affairs for Papa Gino's of America, a restaurant chain.
Howard Phillips, TCC Founder
From 1974 to 2011, Howard Phillips was the Chairman of The Conservative Caucus (TCC), a non-partisan, nationwide grass-roots public policy advocacy group. TCC provided leadership in opposition to the Panama Canal and Carter-Brezhnev SALT II treaties during the 1970s. Since then TCC has led national campaigns to end judicial tyranny, restore a U.S. military presence at Panama, deploy SDI, eliminate the graduated income tax, and terminate Federal subsidies to ideological activist groups. Other TCC campaigns have involved opposition to NAFTA and the World Trade Organization (WTO), passage of the Constitution Restoration Act (CRA), and withdrawal from all institutions of the New World Order, as well as continuing efforts to oppose socialized medicine, abortion, and special rights for homosexuals.
During the 1970s and '80s, Phillips coordinated efforts to build private sector support for anti-Communist freedom fighters in Central America and southern Africa. He played an instrumental role in the leadership of the New Right, as well as in the founding of the religious right in 1977. Phillips has led geostrategic fact-finding missions to Eastern Europe, Africa, the Baltic States, South America, Central America, Western Europe, and the Far East.
Phillips is President of The Conservative Caucus Research, Analysis & Education Foundation and the U.S. Taxpayers Institute, and is Chairman of the U.S. Taxpayers Alliance.
Howard Phillips founded the U.S. Taxpayers Party (USTP) in 1992 to offer America leadership committed to restoring the Federal Republic to its delegated, enumerated Constitutional functions and returning American jurisprudence to its original "common law" Biblical foundations. Phillips was nominated in 1992 and 1996 to be the USTP candidate for President of the United States. In 1999 he was chosen to be Y2K Presidential nominee of the Constitution Party, the renamed USTP.
Married, with six children ranging in age from 24 to 45, and 17 grandchildren, Phillips left the Republican Party in 1974 after some two decades of service to the GOP as precinct worker, election warden, campaign manager, Congressional aide, Boston Republican Chairman, and assistant to the Chairman of the Republican National Committee.
A 1962 graduate of Harvard College where he was twice elected president of the Student Council, Phillips is President of Policy Analysis, Inc. (PAI), a for-profit consulting firm which publishes the bimonthly Howard Phillips Issues and Strategy Bulletin (HPISB.
During the Nixon Administration, Phillips headed two Federal agencies, ending his Executive Branch career as Director of the U.S. Office of Economic Opportunity in the Executive Office of the President, a position from which he resigned when President Nixon reneged on his commitment to veto further funding for "Great Society" programs.
Phillips has published four books: The New Right at Harvard (1983), Moscow's Challenge to U.S. Vital Interests in Sub-Saharan Africa (1987), The Next Four Years (1992), and Victory 2000 (1999). He was the recipient of the Strategic Resource Group's William Wilberforce Award for "Ministry to the Nation/Public Policy" in September, 1996; the National Council on Bible Curriculum in Public Schools Award, 1995; the Young Americans for Freedom "Alumnus of the Year" Award, 1990; the National Association of Pro-America 1983 Award for "promoting Constitutional government"; and the June, 1982 Eagle Forum Award, for leadership in the pro-family cause and "steadfast opposition to the mischief of the Federally financed feminists." In May, 2002, the Patrick Henry Center for Individual Liberty conferred upon him the title of "Patriot."
---
Staff include:
Charles Orndorff: Administrative Vice Chairman and Constitutional scholar. Legislative Policy Analyst on issues including taxes, spending, Federal budget.  Papers by Mr. Orndorff: Will a Balanced Budget Work? – The Constitutional Budget Project-FY 2012
Art Harman: Television Producer; Webmaster; Communications Director. Legislative Policy Analyst on issues including trade and American manufacturing, China (military, human rights, trade violations), NASA/space, grassroots lobbying techniques.  Papers by Mr. Harman: How to Empower Consumers to Find American Made Products – The Three Solutions to Avoid Evacuating ISS – Radio and News Interviews with Mr. Harman
---
Statement of Principles of The Conservative Caucus 
I. Right To Enjoy The Income From One's Own Labor:
There should be a ceiling on the proportion of income which government may take away, in taxes, from any citizen. Graduated taxation, combined with inflation, places an especially unfair burden on working Americans, whose tax rates increase automatically as inflation pushes them into higher tax brackets.
II. Right To Personal Security:

Citizens have a right to the security of their persons, their homes, and their property. It is the first task of government to protect the law-abiding from those who break the law.  Concern for the rights of crime's victims must be emphasized over the privileges of those who commit crimes. The goal of law enforcement should be to apprehend, punish, and isolate those who criminally violate the rights of others.
III. Right To Educational Freedom:

The right of parents to define the conditions and content of their children's education must outweigh the power of government to interfere in the selection of textbooks or teachers, or to use the schools to advance the political, cultural, and social objectives of government officials. There must be no forced busing.
IV. Right To Religious Liberty:

The government should not be permitted to interfere with the freedom of individuals to pray to God in accordance with their own beliefs; nor should there be any officially established orthodoxy, religious or secular.
V. Right To Life:

No government resources should be used to encourage, sanction, or assist in the taking of innocent human life.
VI. Right To National Sovereignty:

The defense policy of the United States should be based on a goal of strategic and tactical supremacy on land, in the sea, in the air, and in space. Our foreign policy should have as its sole and overriding purpose safeguarding the national interest.
VII. Right To Economic Justice:

The government should be required to hold the level of its expenditure to the level of its income and not print or coin new money to meet governmental obligations, thus inflating the  currency and deflating the value of money already in circulation. The principal victims of government over-spending are the working men and women of America whose income is reduced in value and whose jobs are threatened by the inflation and unemployment which results from a public sector grown too large.
VIII. Right To Be Individually Judged:

Quotas, based on characteristics inherited at birth, are both discriminatory and arbitrary, wrongfully disregarding individual merit, achievement, and successful competition in favor of collective classifications. The government should not apply or encourage the use of quotas as a basis of selection in education, employment, or conferring of benefits. Individual rights must, in such instances, transcend bureaucratic determination of group interests.
IX. Right To Political & Economic
Liberty:  No citizen should be obliged, either by taxation, by regulation, or as a condition of employment, to support candidates, organizations, or causes with which he disagrees.
Government resources ought not underwrite policy advocacy or political activity.
X. Right To Self-Government:

Grants of power from the people to their government should be so limited and carefully prescribed as to assure that such power will be exercised in behalf of those from whom it is derived, rather than to serve those in whom it is concentrated. The vast power of the Federal bureaucracy should be dismantled, with control over public policy and government spending returned to elected officials at the local level.
Local self-government, in small communities where property ownership is widespread, encourages the existence of an independent, self-determining citizenry, whose diverse control over their own affairs is itself a check on the arbitrary power of distant bureaucrats.
~~~
"If to please the people we offer what we ourselves disbelieve, how may we then afterward defend our work?  Our job is to raise a standard to which the wise and honest may repair, recognizing that the event is in the hands of God."  George Washington