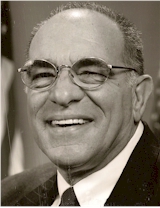 Peter J. Thomas, one of the founders of The Conservative Caucus (TCC) in 1974, takes over today as the organization's new Chairman. He has a long history of activity in conservative politics, and as a political appointee in Republican administrations going back to Ronald Reagan. Thomas replaces Howard Phillips, who retired late last year.
Thomas thanked Howard Phillips for his many years of service to TCC and for his unwavering support of Conservative issues. Thomas went on to say his goal as Chairman is to restore the Caucus as a grass roots lobbing force in the congressional districts as well as on Capitol Hill.
Thomas served as TCC's National Field Director from 1975-1981, seeking to establish a grass roots network in each state and congressional district. He played a key role in organizing citizen opposition to the Panama Canal Treaties, the SALT II Treaty, and the proposed Constitutional Amendment that would have given the District of Columbia voting representation in Congress. He later founded and served as President of the Massachusetts Foundation for Economic Research.
President Reagan appointed him as the New England Regional Administrator of the General Services Administration in 1981, a position he held until 1985. Thomas returned to the Federal government in 1990, working in the Small Business Administration for two years. He gained first-hand experience with Congress as Chief of Staff to Rep. Peter Torkildsen (R-MA) from 1995-1997. He later served President George W. Bush in the Department of Agriculture, rising to the position of Acting Assistant Secretary for Administration.
The new TCC Chairman also has an extensive background in the business sector, leading the consulting firm of Bay State Strategies since 1997. Earlier he spent four years as Director of Public Affairs for Papa Gino's of America, a restaurant chain.
The Conservative Caucus (TCC) is a grass roots public policy action organization, formed in 1974. It was active in defeating the SALT II Treaty, repealing the Catastrophic Coverage Act, blocking the Clinton health-care takeover, and persuading the U.S. House of Representatives impeach President Clinton.